Hydroxychloroquine is an antimalarial drug that also elicits an immunomodulatory effect. Therefore, it is also widely used to treat autoimmune conditions such as rheumatoid arthritis and systemic lupus erythematosus. As an inhibitor of heme polymerase, it is also believed to have additional antiviral activity and has been used as a short-term treatment for the coronavirus pandemic.
While rare, long-term use of hydroxychloroquine, also known as Plaquenil™ can cause toxicity to the macula based on one's cumulative lifetime dose. Toxicity and vision loss can be minimized with proper dosing and monitoring. Consequently, it is important for those on the drug to understand that just because no macular toxicity is found this year, there still could be problems next year.
Macular toxicity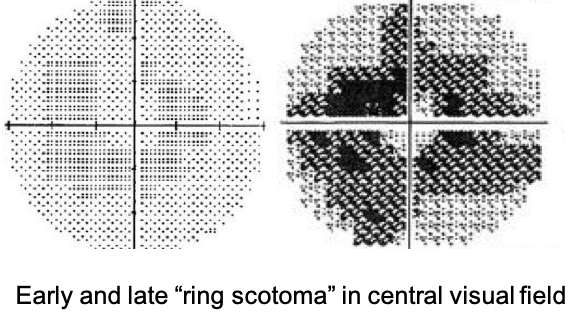 For the most part, toxicity will not begin until one has been on the drug for five years. When starting on hydroxychloroquine, it is important to get a baseline eye exam, with repeat examination and testing every year until the fifth year is reached. After five years, testing should take place every six months. Toxicity manifests as a "bull's eye" macular lesion with a corresponding ring-like visual field defect in the central vision. Unfortunately, once these signs are actually visible upon clinical evaluation, the toxicity is already fairly advanced. Therefore, early detection is key to preserving vision.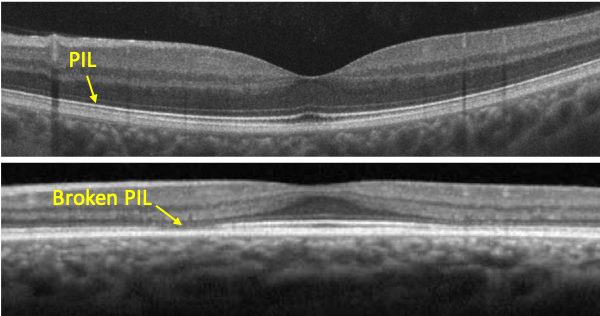 Fortunately, OCT of the macula can detect changes very early. In the diagram, the photoreceptor integrity line (PIL) is noted. This is where the inner and outer segments of the retinal photoreceptors meet. The earliest change noted on OCT is a break in the PIL. If changes on OCT are detected and if Plaquenil is stopped, vision is preserved in most cases. Measurement of the central visual field is also still considered a standard of care and should be performed yearly. However, OCT will likely detect macular toxicity before a visual field defect develops.
Weight-based dosing
The key to minimizing the risk of retinal toxicity is appropriate dose based on body weight. Revised guidelines from the American Academy of Ophthalmology (AAO) in 2016 state that to reduce the chance of macular toxicity, the maximum dosage of Plaquenil should be 5 mg/kg of body weight. While typical dosing has been two 200 mg tablets per day, by the revised guidelines, anyone weighing less than 180 lbs. should possibly be taking less.
Patients who take an appropriate dose based on body weight have a less than 1% risk for developing Plaquenil retinal toxicity during the first 5 years of use and less than 2% during the first 10 years of use. The risk rises to nearly 20% after 20 years of use, but a patient who screens as normal after 20 years has only a 4% risk for converting to toxicity in the subsequent year. However, if one's daily dose is higher than what is appropriate based on body weight, their risk of toxicity increases.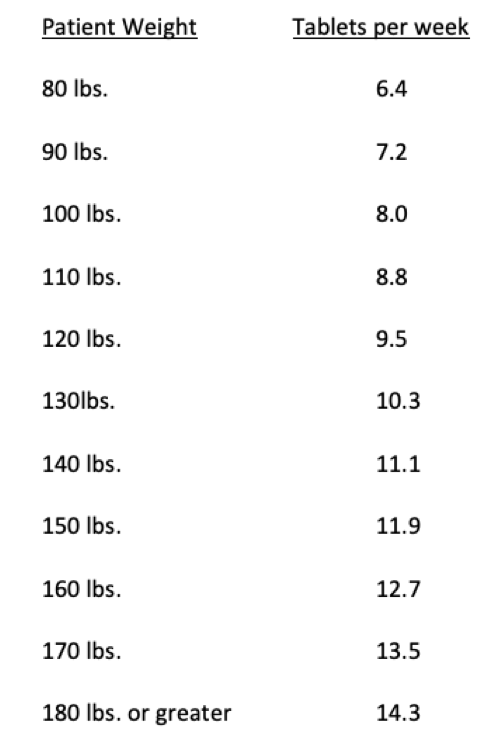 Plaquenil is slow to stabilize in the body, so it does not have to be taken at the same dose each day. As Plaquenil only comes in 200 mg tablets, proper dosing can be achieved by calculating a patient's daily dose based on their body weight in kilograms, multiplied by 5 mg per day to get their maximum daily dose. Multiply this by 7 for their weekly dose, then divide by 200 to determine the number of tablets to take weekly.
For example, let's say someone weighs 150 lbs. 150 / 2.2 = 68 kg x 5 mg per day = 340 mg per day maximum dose x 7days = 2,380 mg per week, divided by 200 = 12 tablets per week. So, this patient will take 2 tablets 5 days per week and 1 tablet 2 days per week. In other words, we can have this patient take two tablets per day except for say Wednesday and Saturday when they should take one tablet.
In the table to the left, note that the number of tablets per week is extended to the first decimal point. A physician may decide to round up or down based on one's clinical picture. However, note that even when rounding up, the prescribed dosage will still be within 1 tablet of AAO guidelines.
Other Considerations
Patients with renal disease are at a higher risk of macular toxicity. Hydroxychloroquine is cleared to a large degree by the kidney, so if the renal system is compromised, this effectively increases the circulating level of the drug. Patients with renal disease can have unpredictably high blood drug levels, so both dosage and ocular screening frequency may need to be adjusted to guard against macular toxicity.
Patients using the drug tamoxifen are at a five times greater risk of developing macular toxicity. Therefore, patients taking tamoxifen require careful dosing and screening.
Please bear in mind that the information in this website is by no means meant to replace the advice of your physician. Dr. Morgan recommends that you always follow the advice of your doctor prescribing your hydroxychloroquine. The information provided herein is strictly meant to educate the reader on the possible ocular side effects of hydroxychloroquine and how they can be mitigated.
Call us today
If you are taking hydroxychloroquine, our office would be happy to monitor your eyes for signs of macular toxicity. Dr Morgan's goal is to fully explain all findings to you during your exam. Dr. Morgan will then send a detailed report of his exam findings back to your prescribing physician.